Formwork Services
A & K Formwork has a great reputation when it comes to providing formwork for the Sydney market. Being both experienced and proficient in this area, we have compiled a list of important things to remember when looking at formwork.
1. Has the formwork system been properly designed?
A competent formwork designer and/or formwork manufacturer/supplier should design the site formwork system. The formwork contractor should have erection design drawings and specifications for the particular formwork system to be constructed. Ensure a copy of the design drawings and loading calculations are available on site. Make sure the building's design engineer specifies when the formwork can be dismantled.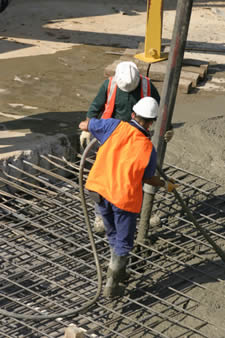 2. Has the formwork been properly constructed?
All modular or framed formwork components, support timbers and structural ply, need to be in a serviceable condition. Check that the constructed formwork is on firm foundations (suitable soleplates, hardness of ground or adequacy of support structure). Make sure the formwork system is the same type and capacity as specified in the design drawing, and is erected in accordance with the design. Ensure any adjustable building props are tied to each other, or to the shoring frames so they cannot collapse when released.
3. Is the formwork deck being laid safely?
The work method used to lay out and secure form ply must protect the workers from falling. When required to work from the formwork itself, make sure they have a full deck of scaffold planks and safe access. When laying additional sheets from the formwork deck, workers should stay clear of the leading edge, pushing out the sheets as they go. Perimeter edge protection (temporary guardrails or scaffolding) needs to be provided. Ensure workers have safe and secure access and egress to and from all the formwork areas.
4. Is steel fixing being done safely?
Make sure plastic protective caps are always placed on the ends of starter bars to safeguard workers. When fixing steel for concrete walls and columns, steel fixers will need properly constructed scaffolds. Steel fixers need protective glasses when using bolt cutters to stop steel fragments from wounding their eyes.
5. Is the formwork structurally adequate?
Before pouring concrete, use an experienced structural engineer to inspect the erected formwork system. This inspection should also include any supporting structure the formwork is constructed upon; for adequacy and the ability to take the loads of the new suspended concrete floor or beam. The engineer should supply an inspection certificate to verify the structural integrity of the support structure and formwork system
6. Are wall and column shutters safely lifted and properly secured?
Formwork shutters need to be securely slung and controlled with a tagline when they are being crane-lifted. Do not allow large shutters to be lifted in strong winds. Where possible, push-pull angled props should be fixed to cast-in anchors. Workers installing she-bolts need to work from properly constructed scaffolds or other safe temporary work platforms
7. Are workers prevented from accessing the area underneath the concrete pour?
Ensure that no worker is allowed to access the immediate area beneath the section of formwork where the concrete is being poured. If an observer is to be positioned at a lower level during the pouring operation, they must be located in a position that will safe guard them from injury if the formwork fails during concrete placement. Generally, neither the observer nor any other worker should be permitted to access the area below the pour once concrete placement has commenced, even to rectify problems.
8. Are concrete pumps being used safely?
Concrete pumps must be well maintained, fully serviceable and should comply with the requirements of the Industry Standard for Concrete Pumping. The operator of a truck mounted concrete placing boom must hold an adequate certificate. Ensure mobile boom-type units are set up correctly, and fully comply with the NO-GO-ZONE rules for overhead power lines. Concrete pumping lines need cleaning out after each use.
9. Are kibbles being used safely?
Crane-lifted concrete kibbles normally require a person with a dogging or rigging certificate to operate them and direct their movement. Make sure the dogman understands the need to release the concrete gradually from the kibble so as not to overload the formwork and risk structural failure. The sudden release of concrete from the kibble can also make the crane boom whip upwards, causing the kibble to bounce dangerously. Never allow workers to "ride the load" by standing on a kibble while it is being lifted.
10. Are concrete vibrators being used safely?
Check that vibrators are well maintained and fully serviceable. Residual Current Devices (RCDs) must be fitted for the protection of all electrical power leads and electric vibrators. Do not use petrol-driven vibrators in cellars or other poorly ventilated areas
11. Are the concreters working safely?
Make sure there are no open sides or penetrations where a worker could fall. Where required, provide temporary guardrails or a heavy duty perimeter scaffold
12. Is formwork being dismantled safely?
Do not allow formwork to be removed prior to the concrete reaching its required strength. When stripping the underside of a suspended floor slab, barricade the area off from other workers. Make sure people dismantling the formwork are working from properly constructed scaffolds or properly planked shoring frames. Never allow "drop stripping" of form ply and falsework.
Formwork solutions have never been easier!
Arrange for the Sydney experts in Formwork to contact you today. Check out our brilliant range services that keep our customers raving about us:
Laying a concrete driveway
Stencil concreting your driveway
Plain concrete
Driveways, paths and patios
Council crossings
Council kerbs and gutters
House slabs – suspended and on the ground
Steel Fixing
Excavation
Concrete Pumping
Detention and retention tanks
Concrete cleaning and resealing